Construction equipment asset management software for plant, fleet and equipment.
Are you tired of endless piles of paperwork crossing your desk?
Do you wish you were more proactive rather than reactive with your service and repairs?
Do you know the real figures of how much your plant and equipment are costing or making for your business?
Cloudcon Rental Software increases your profit and productivity by reducing administrative costs via streamlined, automated, integrated processes.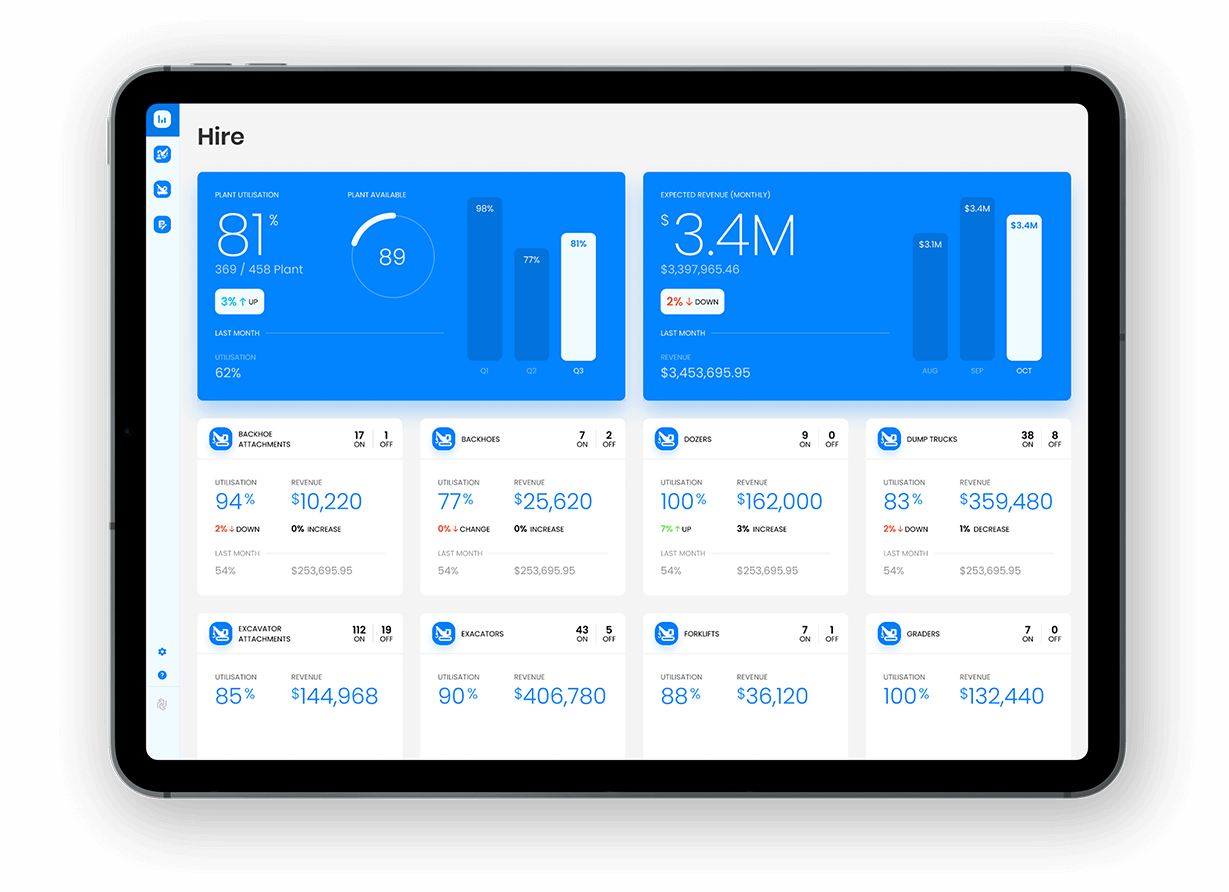 Cloudcon Rental Software consolidates business operations into one platform that helps you with:
Improved safety through easy-to-use interfaces for operator compliance
Greater efficiency through essential information added in real-time
Reduce costs by improving billing accuracy and systems that minimise administrative errors.
Cloudcon Rental Software
Comprehensive platform features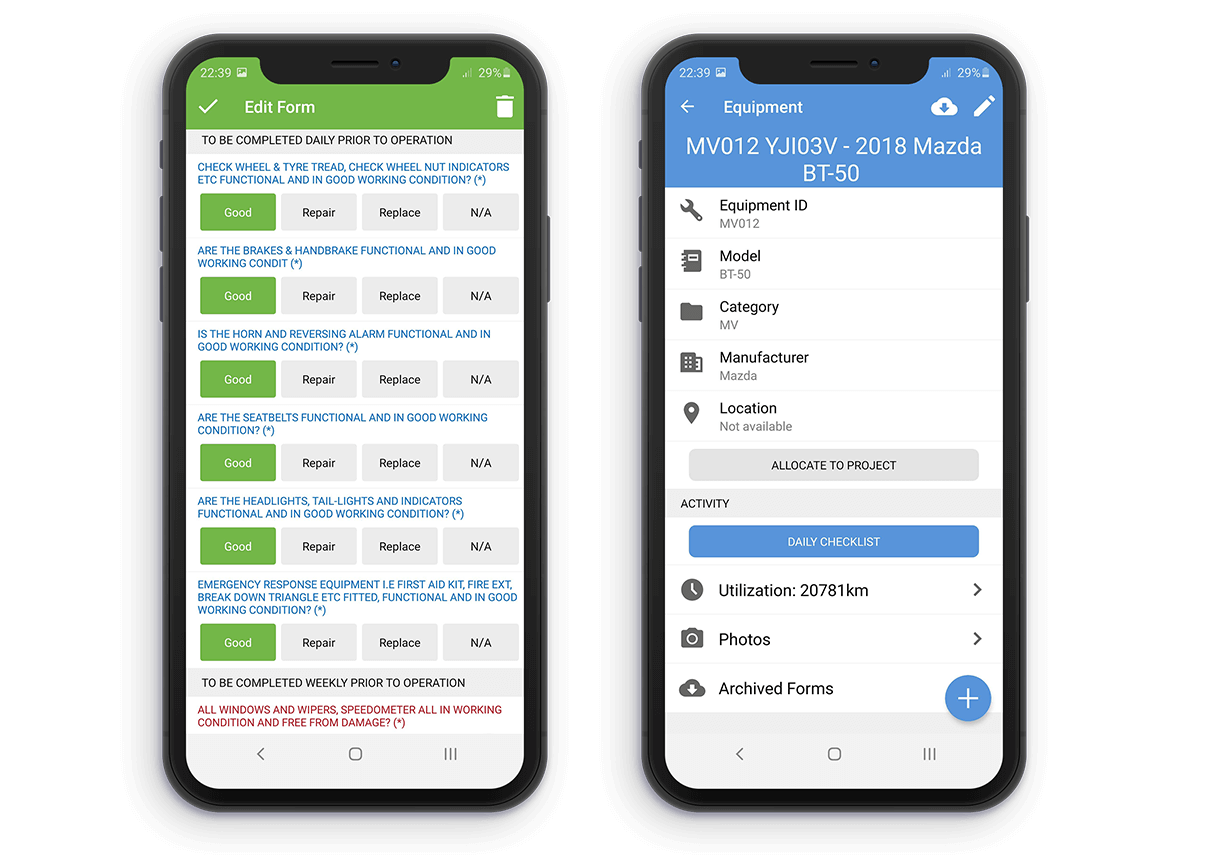 Benefits
Why use Cloudcon Civil Software?
Create
Integrated reports for invoicing, inventory, project tracking and procurement.
A centralised, digitised system for all compliance and user documentation.
Compliant systems for ISO, CCF or other third-party accreditations.
Manage
Wet hire billing with simple job dockets and supervisor sign-offs.
Digital pre-starts, inspections and services.
Cashflow with data driven approvals process.
Automate
Converting dockets into user timesheets.
Sending dockets to clients for approval and payment.
Service and maintenance notifications.
Want to know how our software can improve your business efficiency?
Book an obligation-free demonstration and see how Cloudcon Rental Software can take your productivity and profit to the next level.
The early presentation we received from Chris and Damien showed that they knew their product inside and out.
We met with about 5 other platforms to work with, and the people running the meetings seemed confused by their own program.
The overall simplicity and timely manner in which we receive assistance if needed is the icing on the cake.

Leon
Construction Manager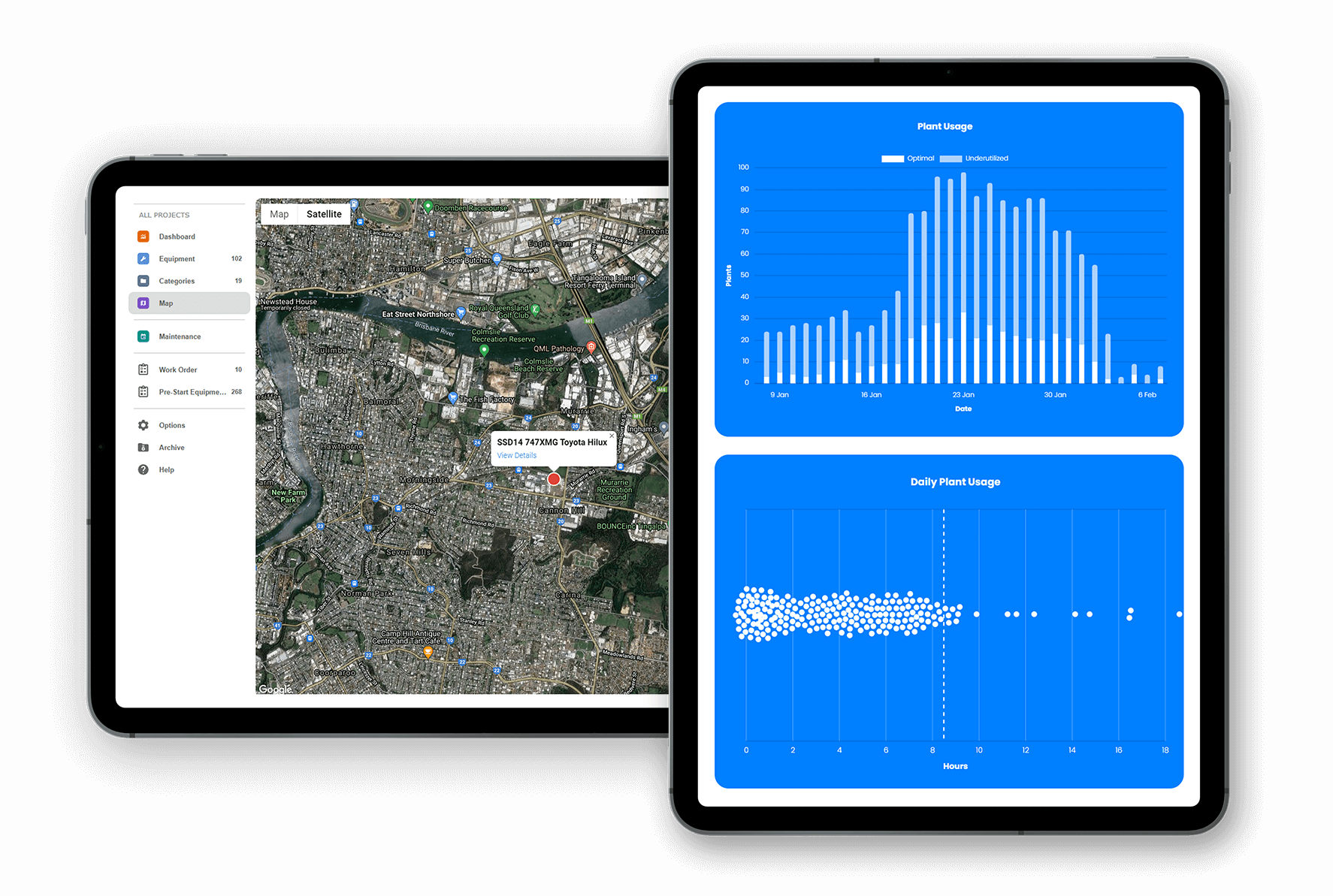 Frequently asked questions…
Are you able to integrate with manufacturer software?

Cloudcon's Rental Software has been designed to integrate with all OEM and third-party GPS providers.

We understand companies use different equipment manufacturers and telemetric providers, so Cloudcon can consolidate multiple connections to one platform, rather than users navigating two or more systems.

Your tailored solution can provide detailed reporting on all collectible data including pre-starts, maintenance and service records, location, project allocation, client and end-user.

Complete data sets for each piece of equipment are stored digitally and can be exported into preferred formats including Excel, CSV, PDF and so on.
Is your system available for both Wet and Dry Rental agreements?

This is 100% our bread and butter (and we like to think what separates us from our competition!).

Cloudcon software workflows have been developed with easy field navigation to capture Wet and Dry hire data with a single platform.

Our software can calculate:

Deductions for lunch/smoko breaks.
Task start and end times without creating new dockets.
Outputs for different machines and attachments.
Applicable rates for the term duration.
Mobilisation and demobilisation rates on a single client contract.

Cloudcon's software can also set geo-fencing rules for applicable charge rates and location tracking.
Can you provide equipment history to clients?

Yes. You can export, via PDF, a complete equipment history showing all conducted pre-starts, maintenance and parts records, client/operator allocations and all photo uploads related to the machinery.

Cloudcon Rental Software can even go one better.

As most hire/rental companies want to create more value-added services for clients, the software can also produce utilisation, fuel burn and equipment productivity reporting with detailed data for each project.